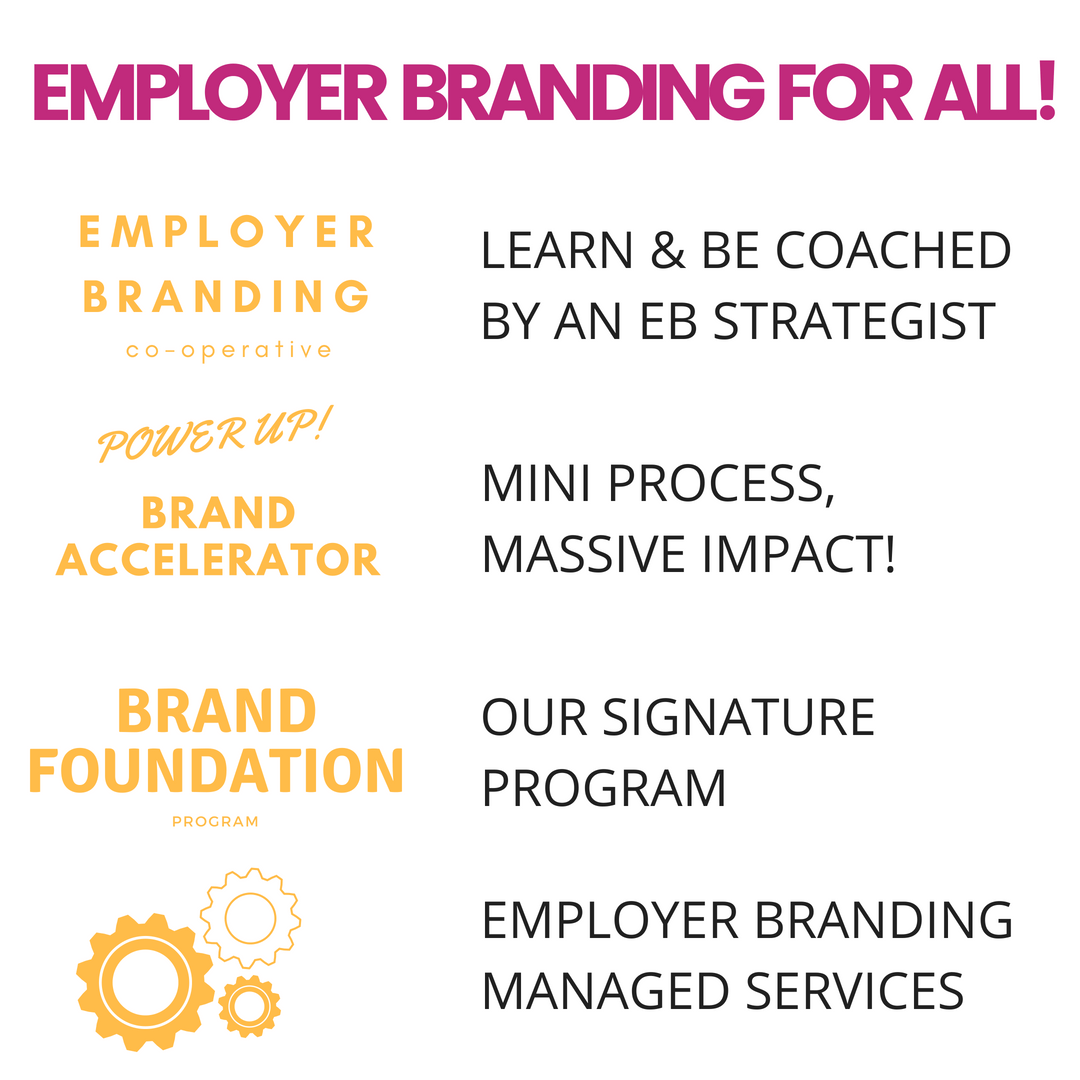 Your company has an epic story to share!
We build employer brands from ideation to activation using our powerful methodology. From Employee Value Proposition (EVP) development to your visual identity, Powerhouse Talent has got you covered!
We help companies realize their best selves, stand out in a sea of sameness, and undergo a cultural metamorphosis. Discover the smart way to build an employer brand.
Engagements Include:
– Employer Branding Co-Operative (e-learning and coaching)
– Brand Foundation Program (full-service end to end engagement)
– Power Up Brand Accelerator (full-service, mini process, massive impact!)
– Employer Branding Managed Services. Get there faster without the cost or commitment of a full-time resource!
Learn More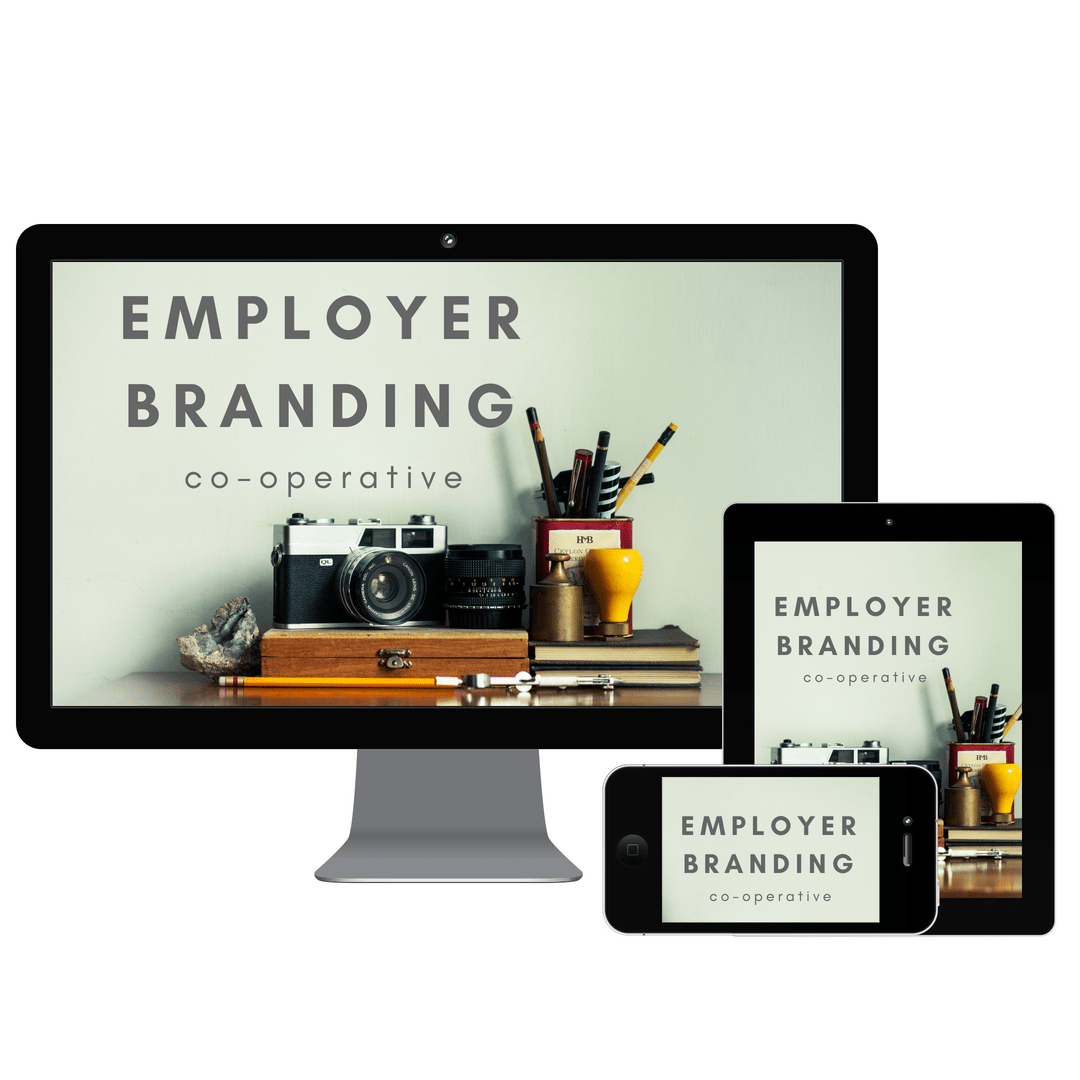 We Are Changing The Employer Branding Game & Making It Accessible To All!
We believe your organization has an epic story to share and the size of your budget shouldn't prevent you from advancing your EB game! That's where we come in…
Join the Powerhouse Employer Branding Co-operative and gain immediate access to EB and TA e-learning AND dedicated one on one phone or video conference support on a monthly or quarterly basis. In each of our "jam sessions", we will ideate, plot, and plan next steps for your organization to rock the talent world!
We put the action in talent attraction learning and make sure every organization can afford an EB strategist on their team! MIC DROP!
Employer Brand Coaching
"Goes above and beyond to deliver results"

Sr Human Resources Professional, Toronto

"A very smart, articulate and eloquent Human Resources Professional"

Sr. Human Resources Leader, California

"Accomplished, engaging and passionate HR leader who delivers results and establishes strong relationships"

Sr Leader, Transformational Initiatives, Toronto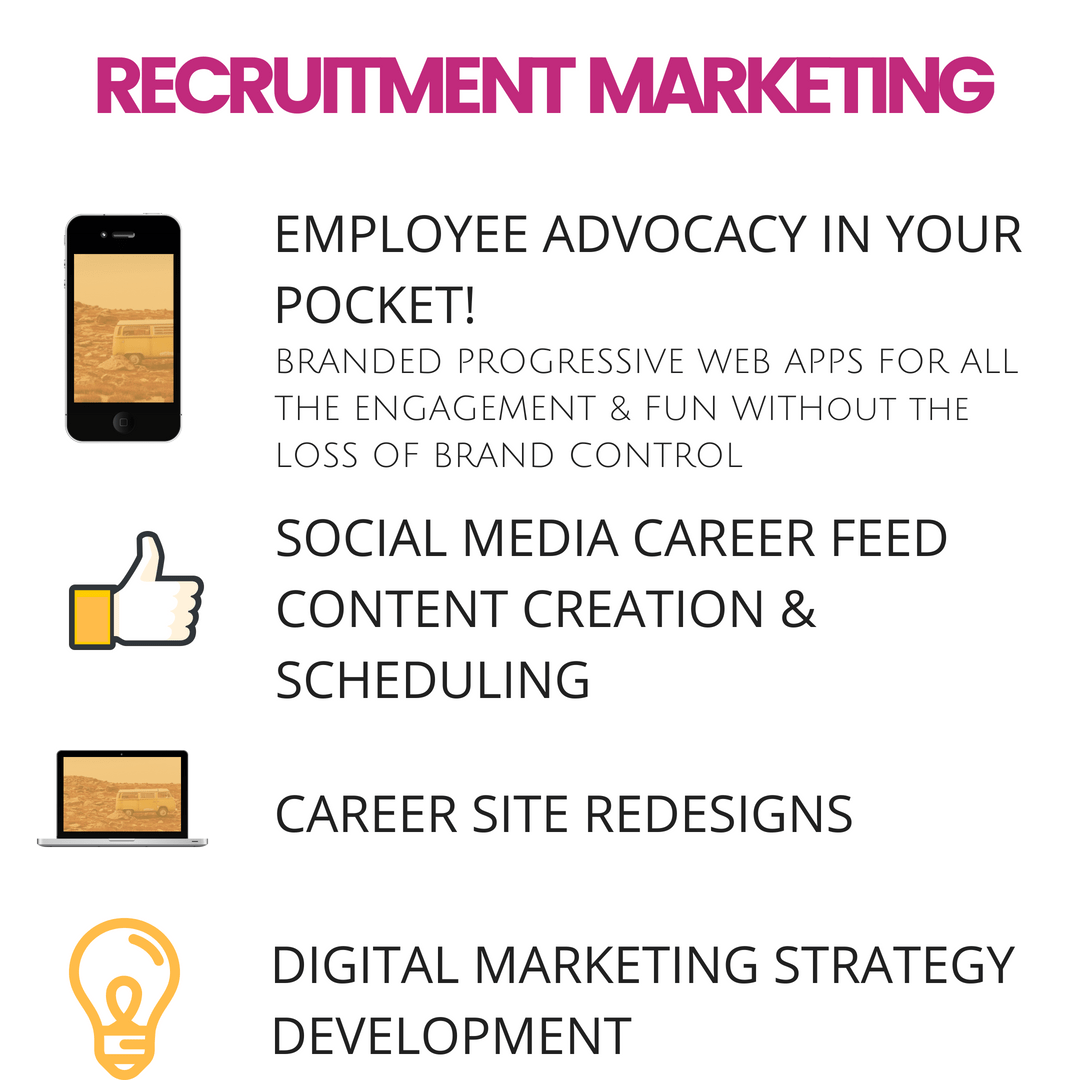 If your career site was an online dating profile, would you swipe left? We thought so. Visual storytelling is where it's at! But not the stuffy PR/Corporate Comms type with perfectly laid out messages on glossy stock images. The stars of the show are your people…your real human employees.
Take a chill pill and let Powerhouse:
– Curate authentic social media career feeds
– Redesign your career site for brand personality, authenticity, and memorability
– Amplify great stories through digital marketing practices
It's time to modernize your TA practice and start activating every stage in the recruitment funnel.
Career Feed Content Design
Career Site Transformations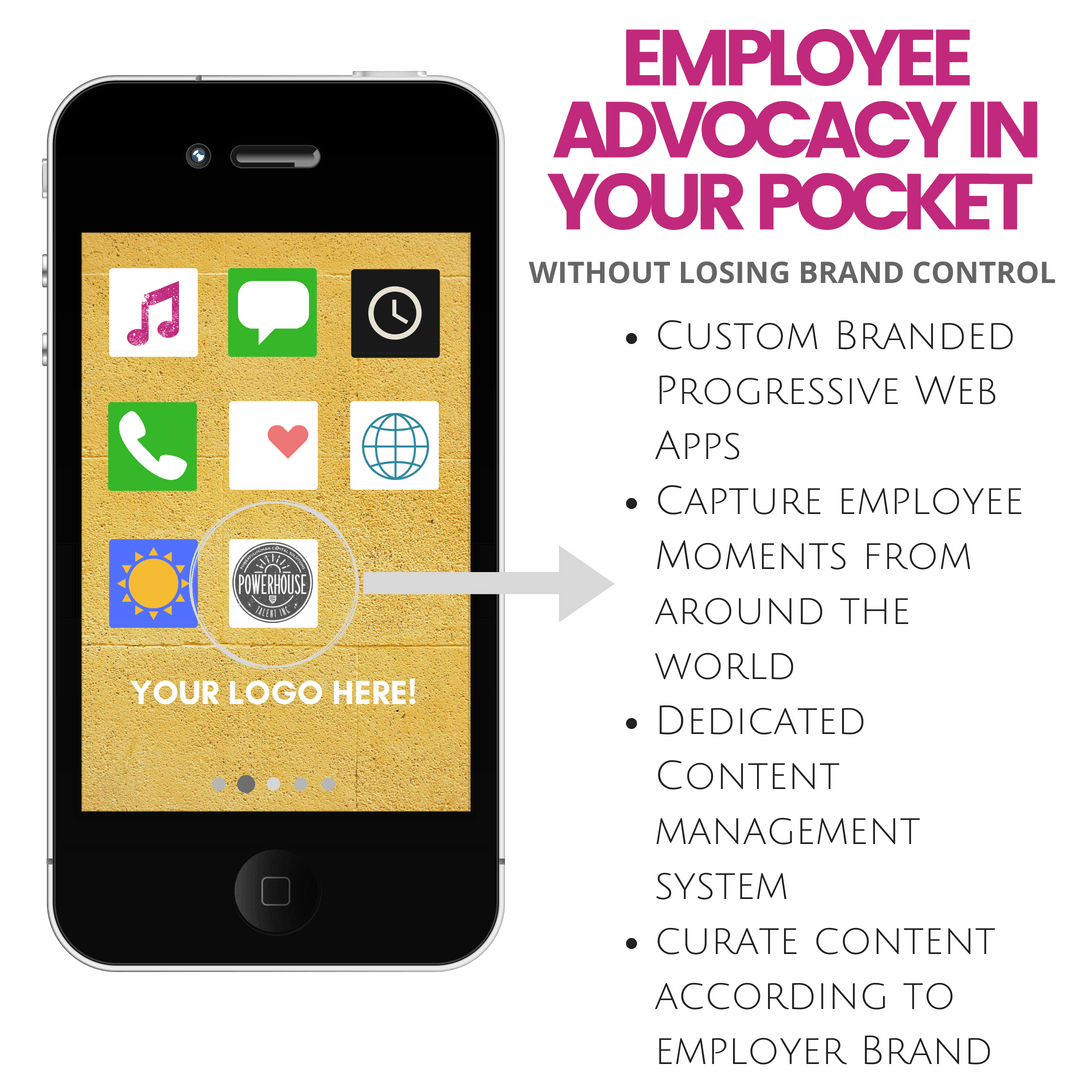 You Can't Spell Happy Without An App!
The struggle of all storytellers is content. You know what "they" say… CONTENT IS QUEEN!
Our branded progressive web apps (PWA) harness the power of your people, igniting employee engagement and pride as they join the journey to help share your story. And the best part, there is no need to lose your beauty sleep over loss of brand control. With your custom branded PWA, you remain the content curator only now with real and engaging stories to share.
Our branded apps are included in all social media packages. Apps may also be purchased as a stand-alone employee advocacy tool.
Appiness Starts Here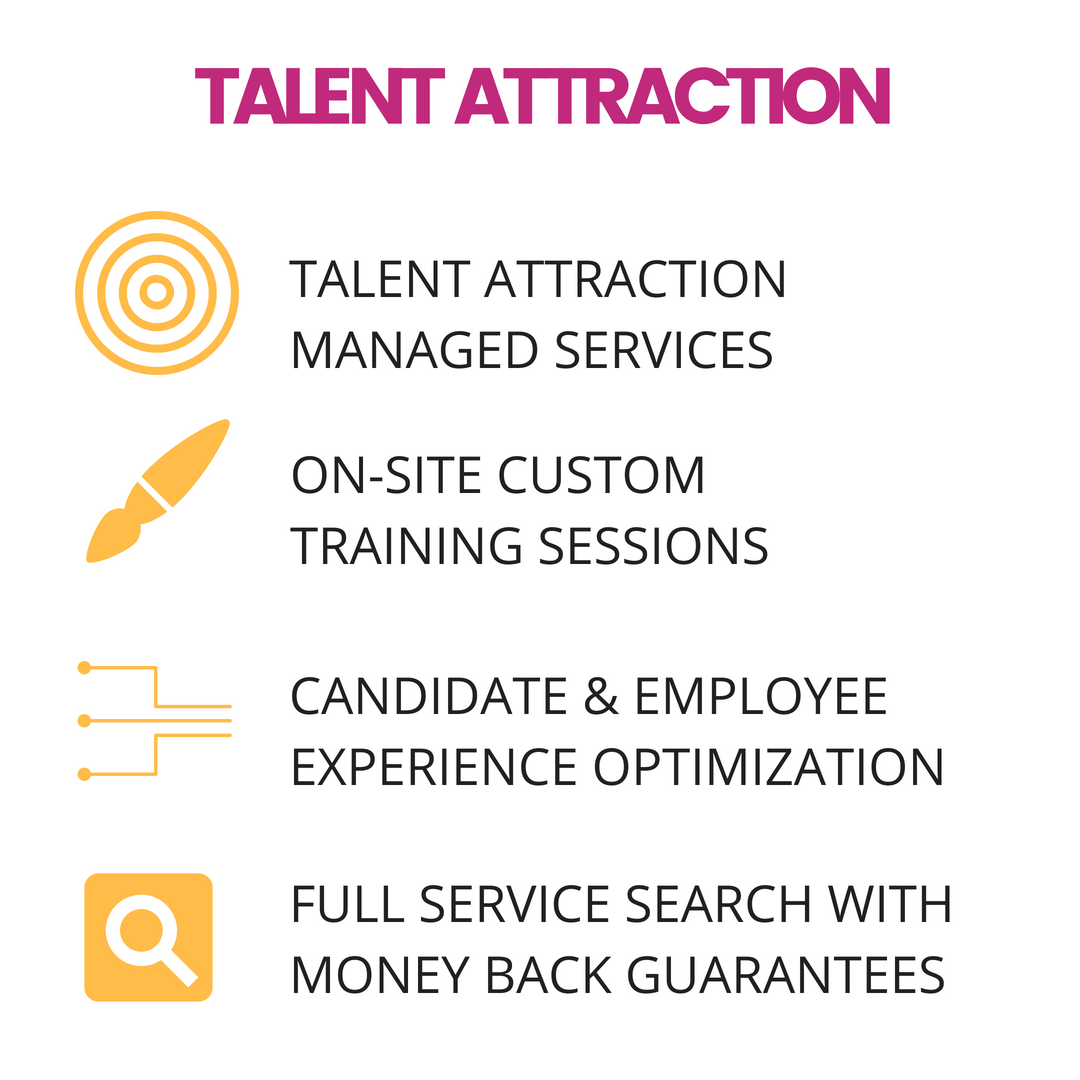 From Talent Attraction strategy to full service search, clients count on Powerhouse Talent to deliver a first-rate experience. We understand the needs of exceptional talent and it is reflected in our advice, strategy development, and behaviour.
Services include:
– Talent attraction managed services
– On-site recruitment training
– Employee and candidate experience optimization
– Full service search
On-site Training
Learn More